Patti Szczerba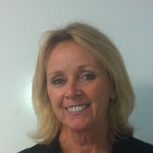 Director of Operations
407-823-6351
Patti Szczerba is the Director of Operations with UCF Florida Space Institute. In the Life Sciences division she assists in strategic planning, participates on research projects and directs and modifies research planning in conjunction with faculty members. She assists faculty in preparing proposals as well supervises and coordinates all meetings. Patti is a member of the organizing committee for FSI SpaceTech conferences. In September of 2013 she was the logistics coordinator for FSI SpaceTech 1.0 which was celebrating Canada's 50th anniversary in the space program, which included bringing astronaut and acquanaut Dr. Dave Williams, MD. Patti Szczerba is also the media photojournalist for FSI Life Sciences accredited by American Images Press and International Freelance Photographers Organization.
Patti has been working for UCF since 2006. Prior to coming to UCF she was a business owner in Titusville Florida. In 2000 she won the "Business of the Year". Her career started at Eastman Kodak in New York City, where she was later promoted and transferred to Rochester NY working for Software Services as a supervisor.
Her personal interest as a mother led her to become the President of PTA in San Francisco providing training and information to volunteers. She also coordinated fund-raising activity, her role was to provide expertise and advice on planning and coordination of campaigns.