UCF research continues to fly into space at a pace that is keeping with the university's reputation as a leader in space technology and planetary science.
BY ROBERT WELLS | MAY 2, 2019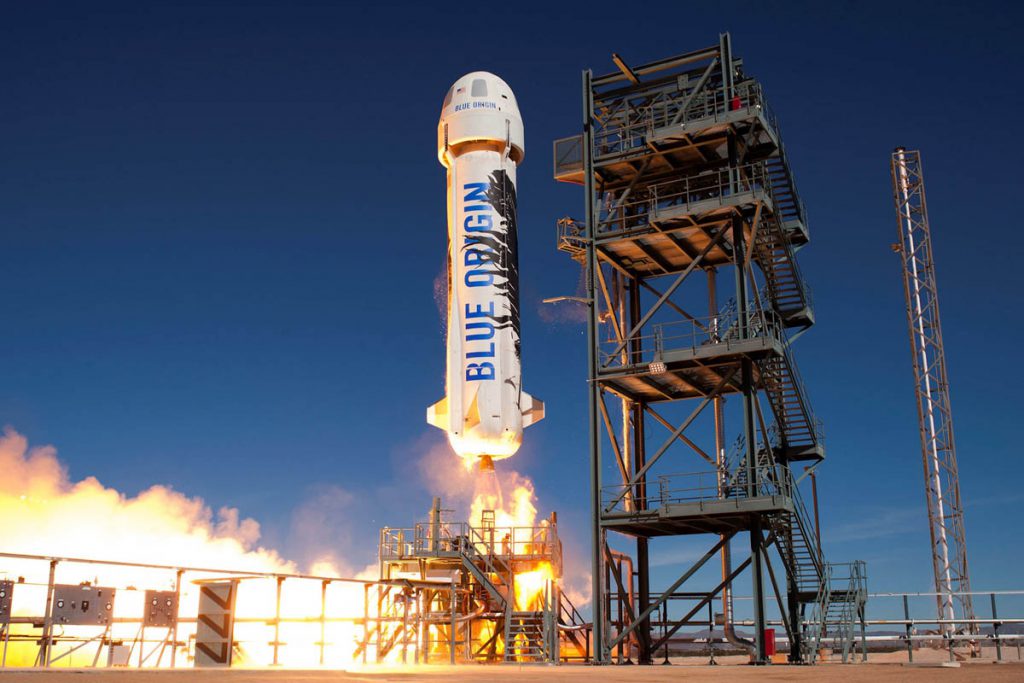 The successful flight of Blue Origin's New Shepard rocket this morning from west Texas carried multiple research payloads, including one from the UCF. It marks the fourth flight into space for the university in the past year.
One special guest flew aboard the flight today – a small plush Citronaut, affectionately referred to as Dave. The Citronaut, which is a blend of an orange and an astronaut, is UCF's retro, unofficial first mascot from when UCF was known as Florida Technological University. He's become a beloved throwback figure among the Knight Nation.
"Dave came out with me last time to see the launch, and everyone loved him so we arranged it so that he could fly in the payload this time," says Adrienne Dove, an assistant professor in UCF's Department of Physics whose research was aboard the flight. "We strapped him in with a little zip-tie harness, and he should be visible in one of our video cameras, so we'll get to see how he does in flight."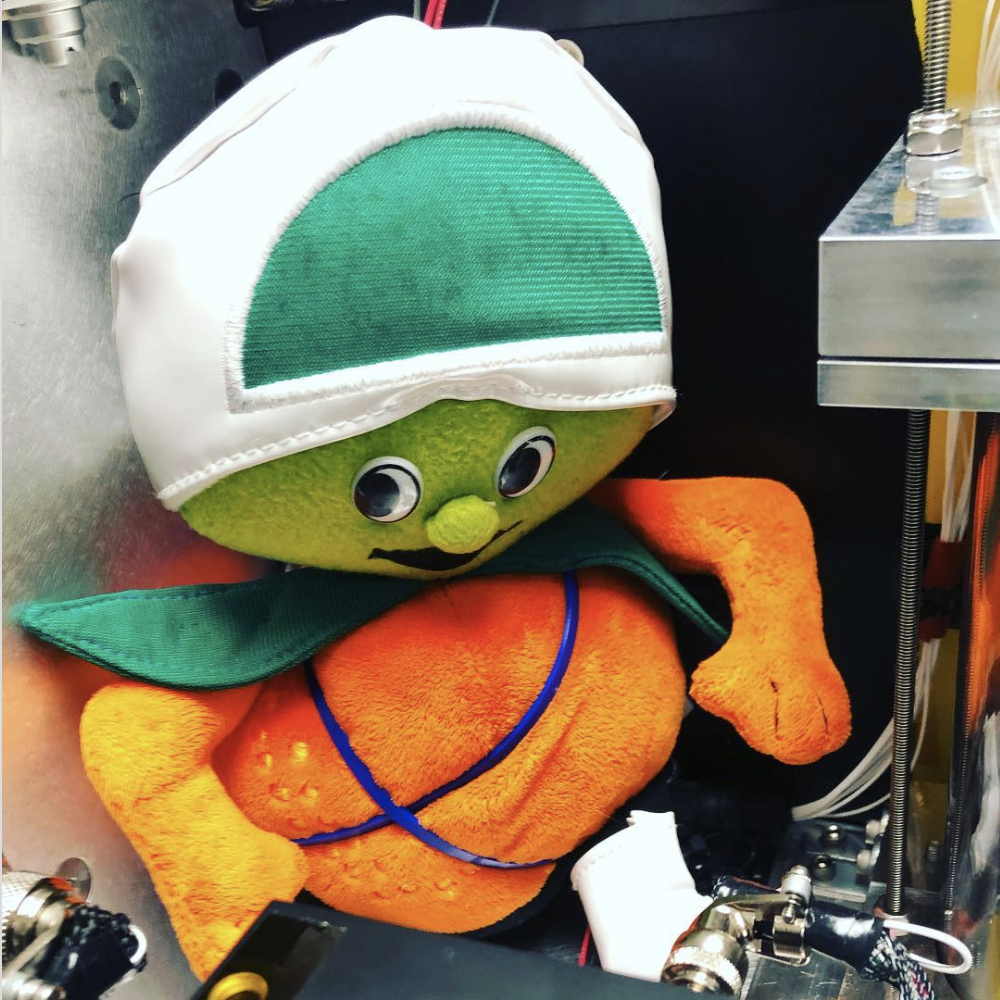 The experiment aboard Blue Origin's New Shepard vehicle is named Strata-S1 and is designed to analyze planetary surface particle distribution in low gravity.
A similar experiment is slated to fly aboard SpaceX's Falcon 9 rocket, which is scheduled to launch soon from Kennedy Space Center on a commercial resupply mission to the International Space Station.
Whereas Strata-S1 was a one-time experiment performed while the New Shepard rocket was in space, the SpaceX flight will send Dove's research to the ISS where her experiments will be carried out to better understand how surfaces found on planetary bodies, such as asteroids, behave in low-gravity environments.
It will be the first set of experiments to fly on a new ISS research facility named Hermes. The experiments specifically will examine how different sizes and types of particles become distributed when gravity is low.
[Assistant Professor Adrienne Dove's] research heavily involved students, offering them real-world experience and prestigious projects to add to their resumes.
"It's similar to the Brazil nut effect," Dove says. "If you have a container of mixed nuts – peanuts, cashews and Brazil nuts – the Brazil nuts always come to the top. We think it's dependent on gravity, so this experiment is trying to understand that but with realistic particle sizes for asteroid surfaces and in a low-gravity environment."
The results will be used to help inform current and future asteroid-sampling and landing missions, including NASA's OSIRIS-REx and the Japan Aerospace Exploration Agency's Hayabusa2 missions.
The research heavily involved students, offering them real-world experience and prestigious projects to add to their resumes.
Dove is also slated to have her research fly aboard a suborbital flight by Zero Gravity Corp. this month from Sanford, Florida. The research, titled SLOPE, will examine how landslides happen in low gravity, and the results could inform future space-surface exploratory and construction efforts.
It is funded by NASA's Undergraduate Student Instrument Project that promotes interest in learning about and pursuing a career in science, technology, engineering and mathematics fields.
Julie Brisset, a research associate scientist in UCF's Florida Space Institute also had research headed to space recently. Although the EXOS Aerospace Systems & Technologies SARGE rocket launched with her research in early March did not reach the desired altitude and microgravity was not achieved, the flight was beneficial in pinpointing ways to improve hardware, including the camera, for the next flight.
"There's so much excitement on liftoff … but now we have to wait to get our payloads back to see the data, and it's very nerve-racking." – Adrienne Dove, UCF assistant professor
Brisset's project is designed to study how particles aggregate and collide in microgravity. EXOS is a developer and operator of reusable space vehicles and is based in Greenville, Texas.
John Quinn, chief operating officer for EXOS, says the March launch was the second reuse of the SARGE vehicle.
"Upon the next reuse, we anticipate achieving our target altitude and microgravity time with the UCF payload on board," Quinn says.
Dove was at the west Texas facility to view the launch. She says she will be able to take a peek at the experiment's performance via video footage this afternoon and that full data analysis will take place later.
"There's so much excitement on liftoff, and they do call-outs of the altitude, when we're in microgravity, which is my science time, and then it's really impressive to see it come back down," Dove says. "But now we have to wait to get our payloads back to see the data, and it's very nerve-racking."
Dove says this was her second time watching one of the flights in person.
"It's always fun to watch the livestream, but seeing the flight in person is very exciting," she says.